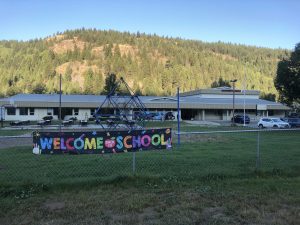 FROM OUR PRINCIPAL
Welcome to our school website! Hopefully, you will find some of the answers to your questions here and please also note that we do maintain a Facebook page which is updated more frequently with events, activities, and celebrations of student achievements.
Greenwood Elementary School has only recently become a K-7 school and we are really enjoying the opportunities for inclusive and innovative new adventures that cross-grade learning brings. The staff at our school all have one goal in mind: creating strong supports for students so that they can identify their strengths and have the courage to address their stretches. There are growing opportunities for students to gain and practice skills within our school community through classroom learning, extracurricular activities, and connecting to our larger community that they can use to help them with future success.
We have an active PAC that we invite families and caregivers to attend which meet regularly to create ways in which students needs can be met through fundraising activities and fun events which connect us all. You can find more information about meetings on our website, through our social media page on Facebook, school newsletters, or by contacting the school.
Students, you are the reason we are here, and we are here to help you reach your goals and inspire you to discover your individual talents, interests, and abilities. We can only do this if we demonstrate kindness and patience towards ourselves and each other in all the spaces in which we connect. We look forward to seeing what this year brings and celebrating the success of each of our learners.
Angela Bragg
Principal